Is Your Business On The Map?
One of the most basic and most often overlooked aspects of local SEO is the Google Maps listing.  This refers to the map and subsequent local business listings that are shown for a localized search, such as Home health care in Houson Texas (see image below).  The benefit of having your business listed in the map means your business name is at the top of the search results, above all organic listings.  This means potential customers see your company before almost every other one of your competitors.  It's also about trust.  People trust businesses that appear in the maps/business listing section, because it's a sign that Google has given their stamp of approval, which ads credibility to your website & company.  For local markets, the Google map listing can be even more lucrative than the organic search results that appear below the map, but we like to make sure your business website appears in both, for double the exposure.
How We Do It
The tactics that go into ranking websites on the Google maps business listing is quite a bit different than the methods we use to rank your website for organic search results.  However, with the process we've developed, we can typically get you ranking in both areas simultaneously.  We've been in the SEO game for a long time.  And we've seen many Google algorithm changes over the years, so we have a specific game plans (that we don't want out competition to know about) which will achieve amazing results for both map listings & local organic search results.   We first create or claim your Google business listing which is very simple.  If you have already claimed your listing, that's great and will make things a bit easier.  We then make sure all of your pertinent information is correct on your Google business listing, as this is the information that populates the Google map.  If you phone number or web address is wrong, this is bad and customers won't find you.
Local Business Citations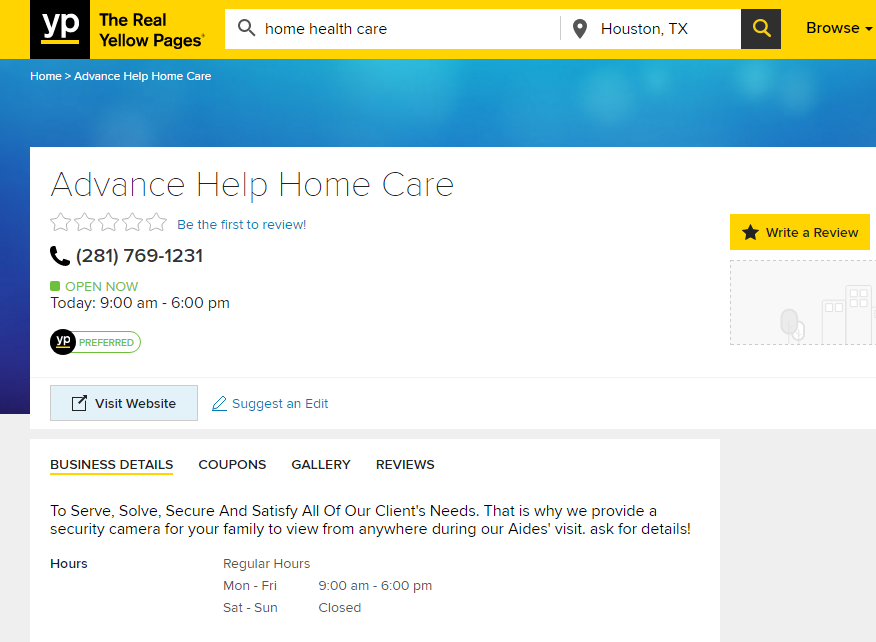 Local business citations are essentially local directory listings where your business information appears.  Think Yellow Pages except online.  These listings have all of your important business information including, address, phone number, contact info, website, business hours etc.  Google uses these citations as a way to confirm where your business is located and cross checks the data with what you have listed on your Google business page.  It's very important that your citations across the web are consistent and don't have varying information about your business, as this can confuse Google and may hinder your ability to properly show up in the Google maps listings.  We review all of the citations you currently have for your website, verify the information is correct and make any necessary changes.  It's a time consuming process, but one that's often overlooked and can make a huge difference in appearing on the Google maps or not.
Modifying Your Website
In most cases there are a few minor changes that will need to be made to your actual website to get it in shape to appear on the Google maps business listings.  Having your company address and phone number listed on each page as well as changing some of the title tags in the code to reflect what what your business does, where it's located etc.  Don't worry if you don't know much about this, because we take care of all of these items for you when you sign up for our Google maps package.
More Citations
Earlier we spoke about local business directory citations and how important they are as signals to Google for your business information.  Once we've done our earlier citation audit, we go to work creating new citations with all of business information we mentioned previously.  This is a very time consuming and ongoing process and a big part of our monthly Google maps package here at Home Health Ranks.   Citations are easily something you can do for yourself, but once you start working on them, and see that the process is a bit tedious, we think you'll find our monthly maps package to be a great value.
Reviews
In the past few years, customer reviews have become a big part of building your online business reputation.  One of the first thing consumers look at when investigating a company is their customer reviews.  Reviews also contribute to how your business appears in the Google maps listings.  You've likely done a Google search and seen the star ratings below the company name in the search results.  These review stars are aggregated from the online ratings your receive from websites like Facebook, Yelp, Superpages, CitySearch and many more.  They also let potential customers know if you're someone with whom they may want to do business.  A positive review on a site like Yelp is an excellent stamp of approval for your business.  79% of consumers trust online reviews AS MUCH AS a personal recommendation.   If you haven't been asking your customers to leave reviews online, it's not too late to start.  As part of our Google maps package, we will set up accounts on all of the popular local sites that allow reviews work with you in engaging your customers so the reviews start flowing in.
The Value
Now that you know a little more about how the Google maps rankings work and how extremely important it is for your home health care business to be ranked there, it's decision time.  Do you want to try getting your business listed on your own by auditing and building local citations, managing reviews etc.  Or is your time better spent running your business and letting our experts handle the Google maps ranking for you?
If you have any questions, please feel free to contact us here or give us a call.  If you're truly ready to dominate your competition and start taking back clients that are finding your home health care competitors first, we encourage you to sign up for our Google maps package below so we can get started immediately.  We will get in touch within 24 hours to go over some basic information as well as get any necessary login information so we can get your business at the top of Google maps as quickly as possible.